Published on 17.05.2018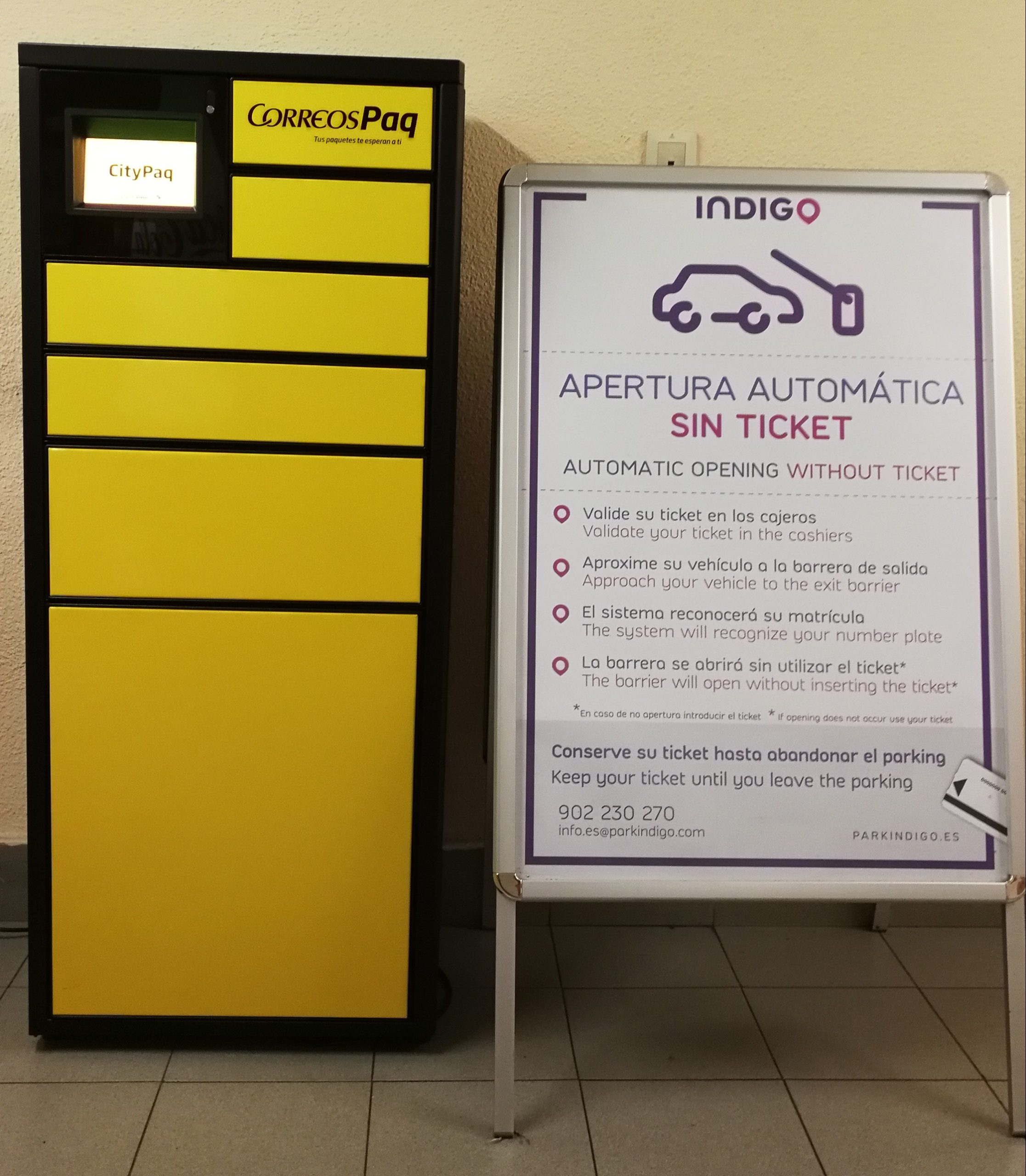 The agreement provides for the setting up of new Correos "CityPaq" terminals in 33 car parks managed by Indigo in major cities, including Madrid, Barcelona, Malaga and Bilbao.
The "CityPaq" terminals provide a convenient solution for customers collecting their parcels, with extended opening hours, as well as returning their goods.
Correos and Indigo recently concluded an agreement providing for the setting up of new CityPaq terminals in 33 car parks managed by Indigo in the main Spanish cities.
As such, the thousands of clients who use their public car parts on a daily basis will have the option to send their parcels and collect their online orders more easily thanks to the new innovative terminals developed by the postal company. To date, 20 terminals have been set up and are in use.
The benefits of CityPaq
CityPaq terminals give users access to their parcels for as long as the locations with them are open. For Indigo car parks, they will be available 24/7. The terminals feature six compartments of varying sizes to suit different sized parcels. The design and height of the terminals means they can be used by people with disabilities and they also comply with all of the security and accessibility standards.
The main advantages for users of the service are extended opening hours for parcel collection, increased confidentiality, easier access and intuitive use.
Furthermore, the majority of terminals provide a hassle-free solution for sending parcels, making them the most practical means for returning items bought online.
Flaunting innovation and promoting online trade and smart cities
Indigo and Correos join forces as part of a visionary project to make things easier for their clients, thereby increasing their value proposition in support of innovation and the upturn in online trade in Spain as well as smart cities.
For Correos, it represents another step towards its objective of becoming the best provider of physical and digital communications services and parcel delivery services on the Spanish market, by providing a wide range of options for returning goods at times and places that are convenient to clients.
As regards diversification, online trade plays a major role insofar as its growth, of more than 20% in recent years, results in a significant increase in parcel traffic. For this reason, Correos initiated several initiatives to support the development of online trade and ensure its presence across the entire value chain: from creating online stores via its Comandia platform to managing the logistics aspects of shipments and putting forward innovative solutions such as CityPaq to facilitate the final step of goods deliveries to clients.
For Indigo, this project underlines its determination to position car parks as a pivotal component in smart cities, consolidating the connection between clients and car parks against the backdrop of online trade. The new service represents major added value for car parks insofar as it lets clients combine their visit with collecting or sending parcels with ease. It will supplement other existing services, resulting from partnerships with different companies, such as car-sharing schemes, vehicle washing and cleaning, car dealerships and car hire.