Published on 21.09.2017
As part of the Urban Week Paris La Défense street culture festival, UNDERGROUND EFFECT returns for the third time from 19 to 21 September. International graffiti artists and street artists will fill the forecourt of La Défense with colour for 3 days.
Parkings Paris La Défense brings street art to the forecourt
An initiative of Defacto and Parkings Paris La Défense (subsidiary of Indigo, world leader in parking and individual mobility solutions) and the SAATO Association, the Underground Effect aims to promote and share urban art. For the third time, 18 graffiti artists from 11 countries (Australia, England, Kenya…) will create 18 live art works on the forecourt of La Défense.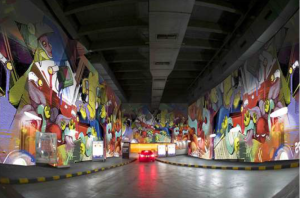 © Projet Saato – Francis Beddo                      The « Cathedral » at car parking Michelet
Free and open to everyone, this event also involves the public. Participants will have the opportunity to meet the artists and visit the event stands. On the programme: initiation to stencilling (a big artistic trend in street art), T-shirt and tote bag printing and exhibition of around thirty graffiti works sold as a limited series by WASAA.
Long-term works visible all year round in the Paris La Défense car parks
Once the event is over, the works will enrich the travelling exhibition in the 17 Paris La Défense car parks operated by Indigo. Alongside the works created in the first Underground Effect events, the 18 new creations will be displayed in all of the Indigo La Défense car parks, which have now become underground contemporary art museums. Real urban hubs, the Paris La Défense car parks echo the cultural events of the business district and follow the latest alternative trends.
Much more than a parking space, they provide the 2,080,344 hourly customers of the neighbourhood and the 147,000 season ticket holders – mostly companies – with a new car parking experience which is pleasant, innovative, atypical and in tune with the times. On this note, on the initiative of the consortium Indigo – Defacto – Culture & Patrimoine, the Alternatif will open its doors next autumn in one of the Paris La Defénse car parks – 2000m2 dedicated to the latest alternative trends, a convivial space, off-beat and open to all in which culture, events and the business world will coexist.
"We are particularly fond of La Défense, the leading European business district and our group headquarters. So it seemed natural to bring in this project which will play an active part in the culture of this neighbourhood. That's why we wanted to give this event a lasting effect by transforming our car parks into real exhibition venues. More broadly speaking, this project helps to create urban hubs out of our car parks which are connected to the city and their surroundings" says Sébastien Fraisse, Executive Vice President of Indigo France