Convenient parking, directly next to the ski lift : modern facilities and operation by Indigo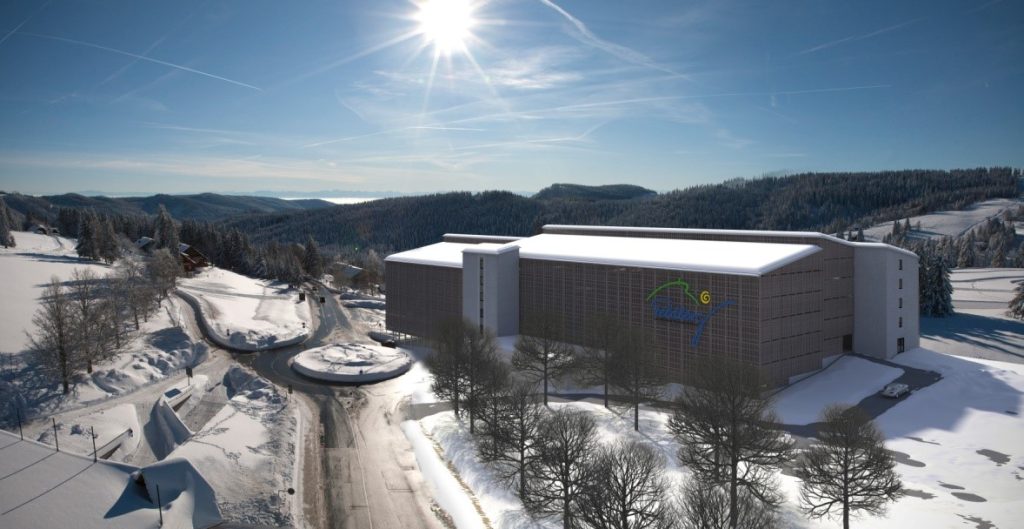 Skiers on the Feldberg in the Black Forest no longer have to take a car park ticket, holidaymakers can simply reserve their parking space per app, and there will be an end to traffic jams: in the newly built car park on Baden-Württemberg's highest mountain, Indigo (previously VINCI Park) has integrated advanced mobility solutions to make parking as simple as possible. The new building is 1,300 m above sea level and will be officially opened on 9 December. The highest altitude car park in Germany boasts 1,200 parking spaces for cars and 45 outdoor spaces for buses.
Indigo, the world's largest car park operator, was awarded contract to construct the building as a leaseholder. During a construction phase of just eight months, the company, which has been active for 50 years and which combined its international expertise under the name Indigo in November, equipped the car park with a state-of-the-art infrastructure. This infrastructure includes a newly developed reservation system that allows visitors to reserve their desired parking space in advance and avoid waiting times. Skiers do not have to take a ticket and pay later. Their car parking fees are already included in the ski pass. The new car park also offers heated ski depots and modern sanitary facilities. In summer, the new building provides undisturbed access to the region's nature parks and hiking areas. Thanks to the new car park, cars will no longer block access by parking on green spaces or on the side of the road, meaning an end to tarnishing the natural experience of the Black Forest.
The new building, which has been financed by the investor and principal E&G Funds & Asset Management GmbH, a subsidiary of Stuttgart-based bankers Ellwanger & Geiger, was a necessary consequence the overly cramped parking situation in the Black Forest resort. This situation previously resulted in traffic jams and walking long distances from car to recreational facilities. The new parking spaces, which are right next to the Feldberg ski lifts and the Hotel Feldberger Hof, will not only ease the traffic situation and add value to the summer and winter sport resort; the construction opens up a new, modern parking experience to visitors that is tailored to the individual needs of motorists. "Indigo has set itself the task of redefining parking and making parking as easy as possible for everyone", says Adham Azzam, CEO of Indigo Park Germany GmbH. "The Feldberg car park shows how modern technology can seamlessly and conveniently integrate parking into everyday and leisure activities".
As a market leader for parking procurement and management, Indigo designs, finances and operates 2 million parking spaces, 4,000 car parks and 2,500 km of street parking in 500 cities and 14 countries worldwide. In Germany, Indigo has more than 14,000 parking spaces in 36 buildings and 16 cities, and uses innovative solution to provide customers with added value for parking and road traffic.
>> Find out more about indigo in Germany